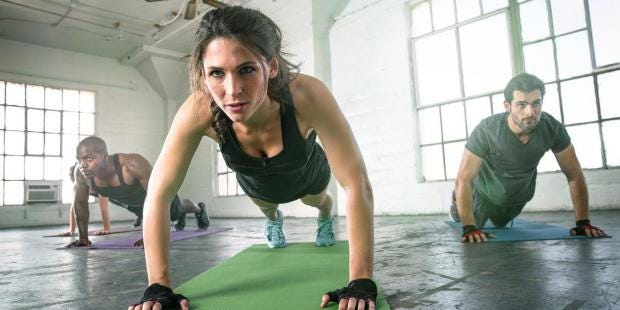 Students are more likely to be spending on exercise classes than nights out, new research suggests iStock/Getty Images
By Emma Featherstone
Independent News
Health-conscious students are cutting back on alcohol and spending almost four times more on fitness than they were a decade ago, new research suggests.
Student letting app SPCE, which is launching next month, commissioned a survey of more than 2,000 people and found that alcohol was at the bottom of today's student expenditure list, accounting for just £68 of average monthly spend. Some 18 per cent of those surveyed said they spent nothing at all on alcoholic drinks.
Money spent on health and fitness, including gym memberships, exercise classes and sports clubs, was £120 on average. This was £87 more than that spent by students that graduated between 1997 and 2017.
The survey, which included students living at home, found the average cost of rent and bills to be £274.
Second only to rent and bill costs, travel is a substantial outgoing for students today – they spend an average of £235 a month, up from just £68 for those who graduated between 2007 and 2017.
For students who have a maintenance loan, the average monthly amount they receive is around £600. However, research in 2016 from NotGoingtoUni found that 87 per cent of undergraduate students surveyed ask their parents for money, on average, five times a study year. And the average annual amount withdrawn from the bank of mum and dad was £2,285 or £190.41 per month.
SPCE's research also suggests that students are far more likely than previous student cohorts to be investing in their health and fitness.
Groceries and household items are also a bigger expense today at £157 up from £97. This figure, however, also includes students who live at home. For those living alone the expense is likely to be bigger.
Leon Ifayemi, co-founder and chief executive of SPCE, said the research suggests that the stereotype of students spending all their cash on drinking and partying is far from the truth.
He added: "For students and the parents often offering financial support to them, tracking their outgoings to ensure rent payments are met and overdrafts are not exhausted is essential to reducing stress and monetary concerns throughout the university experience."
The cost of being a student in the UK can vary greatly between cities. NatWest's annual student living index 2017, which surveyed students across 35 popular UK universities, found that Cardiff was the cheapest place to be a student and Glasgow the most expensive. London was the second most costly.